Grad Chronicle: Alexis Brown
My Experience working as a MT abroad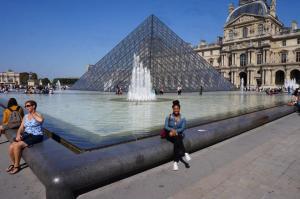 by Alexis Brown
I had the pleasure of attending The Lauterstein-Conway School of Massage February 2013-August 2013. Massage School was a lot of fun for me. I learned so much form the instructors, and enjoyed giving, and receiving massages daily. When I graduated I applied and accepted a position at Edelweiss Lodge and Resort, an Armed Forces Recreation Center in Garmisch, Germany.
I was brought on as a Massage Therapist and Esthetician for a 15 month contract. I had the time of my life, this past year. I was able to travel to 13 countries while employed at ELR, including Italy, France, Spain, England, Hungary, and Croatia to name a few. My overall favorite experience was my trip to Marrakech, Morocco. It felt completely foreign. The city of Marrakech had a lot of old world charm, with an infusion of a new young, vibe. I stayed in a traditional riad the first night and visited the Grand Souk where traditional clothes, spices, street foods, and henna tattoos are sold. My guide also took us on a 7 hour road trip through the Atlas Mountains to the Sahara Desert. There, my husband and I rode camels into the Sahara Desert to spend the night there. We ate a traditional meal of chicken tagine and Moroccan tea made by the Nomadic people of the Morocco. They sang songs around a campfire. It was truly an adventure.
While my travels kept me busy, my job kept my just as busy. While at ELR I did a variety of massages, body treatments, and facial. Hot Stone and Deep Tissue were very popular after a long day of skiing the German Alps. Working at Edelweiss was a unique experience in that the clientele had a unique story as all being affiliated with the military, wether they were active duty, veterans, or family memebrs. I felt great pride in relaxing these clients who go through so much to protect our country. A lot of soldiers were on R&R with their families after deployments in the Middle East and Africa. I was inspired by the stories I heard from them.
Working at Edelweiss Lodge and Resort was the best experience of my life, and I highly encourage anyone who's looking for a little adventure to apply. I also, thankful for the skills I learned at TLC for getting me there.