Grad Chronicle: McKinley Taber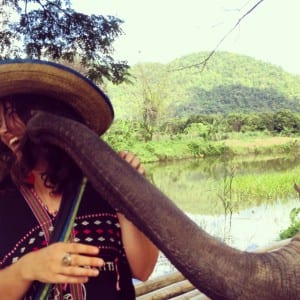 by McKinley Taber
When I graduated high school I had no earthly idea what I wanted to do with my life but I knew I wanted to do something interesting. I am a social person who is very curious about people and their lives so when massage therapy came to mind I didn't hesitate. I signed up at TLC for the intensive program and had no idea how much it would change my life.
Our class was something special, we were all beginners and we knew that. No one had an ego, no one was judgmental, and we all came from different walks of life.
Our teachers were extraordinary, passionate, knowledgeable, and FUN. With this beautiful blend of people TLC had created a safe place for us to learn how to heal not just our future clients but each other and ourselves. As a person who suffered from severe anxiety, I was aware that there was a body mind connection but I couldn't fully grasp the importance and power of it until I went to TLC.
Giving and receiving massage during class 3 times a week was incredible. I had never felt more open, more energized and more aware of my body and my mind. For the first time in my life I was getting to know my body mind in ways I never imagined and it was extremely therapeutic. Perfecting the massage techniques, knowledge of the anatomy, pathology, etc are crucial but what has kept me practicing 5 years later was being taught how to touch with intent, feeling an awareness and truth that comes with intention, to massage someone in a way that not only helps them heal physically but emotionally and energetically.
Now I'm living in Sweden and happily practicing massage at a spa in Gothenburg. Ironically they don't call it Swedish massage its called Klassisk massage. Anyways, I have consistently received great feedback over the years from my clients and can attribute that to my ever lasting experience at TLC! Going to TLC is the best thing I ever did for my body and my soul. The beautiful thing about body work is there is always something new to learn and plenty of room for personal growth, recently I traveled to Thailand to learn Thai massage!
I am so grateful for the knowledge I gained at TLC, it will always have a strong influence on how I chose to live my life.