Grad Chronicle – Natalie Durkin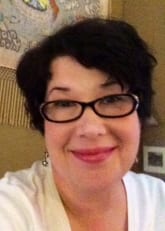 I attended Semesters 1 & 2 at TLC during 1999-2000. My immediate passion became working with clients for pain management, sports performance, and rehabilitative/restorative bodywork. In my first years starting out, I continued to work part-time in corporate office environments while completing my licensing requirements and building my practice.
In the Winter of 2002 I was laid off from the corporate job, which although terrifying in the immediate, it was the springboard I used to get serious and make my career as a full-time, sole-proprietor massage therapist come to life. It's been nearly 15 years since I started, and I'm still at it!
Through the years, I have worked in most aspects of the therapeutic massage industry, ranging from outcalls, to chair massage at ABIA, to contracting for chiropractors and acupuncturists, and even worked with fellow massage therapists to create online support tools for less-experienced LMTs. I have worked with NCAA Basketball MVPs and Olympic Athletes from disciplines ranging from swimming, diving and beach volleyball. Let's not forget countless weekend warriors and ultra-stressed office workers.
I have been in private practice for the last 10 years, and currently see my clients at my studio located on 11th Street near the Capitol. I also teach and compete in Tai Chi, training students of all levels, and have won Tournament Grand Champion at competitions. I currently enjoy incorporating aspects of Tai Chi postural alignment into my client education suggestions.
My advice for new therapists? Hang in there, stay focused, and provide excellent service. Be accountable in your business practices as well as having healing hands. Don't be afraid to ask questions, or to let clients go who aren't a good fit; there is enough work for everyone. Consider joining a networking group, or using a professional coach when starting out. Most of all, never ever lose sight of the help, peace-of-mind (and body!), and well-being that you provide to folks on a daily basis. You are awesome and your clients love you!
N