THORACOLUMBAR FASCIA AND BACK PAIN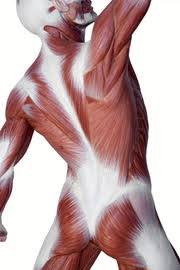 Some years ago, I went with my daughter, Katja, to receive her first facial. The esthetician, from Colombia, explained how it would proceed. She said, "Your face does not end at your neck! It goes down to your chests!"
Well, something similar can be said about your back. Your back doesn't end at the waist! It goes down to your tail!
However, the majority of massages I receive almost entirely avoid the sacrum! This is a serious problem. Unless you are working with a new or very modest client, you are doing them, especially those with lower back pain, a disservice by not addressing this area with knowledgeable, skillful, compassionate, specific touch.
This is just a matter of good applied anatomy. Take a look at the accompanying illustration. The fascia of the back ultimately goes down to the coccyx (and from there into the lower body). If you leave out specific work on the sacrum you are ignoring an area that is often literally and figuratively the root of low back pain.
Now I am not recommending work on the coccyx. But, to give the person the experience of the full length of their back and spine, you have to go at least three-quarters of the way down the sacrum.
And to address the fascia there you can't just do a few general passes. This area needs specificity. As long as you are being sensitive, working here with thumbs, knuckles, or even, gently, with the elbow can make all the difference in the world.
Restore length and health to the lumbodorsal fascia working especially from L3 on down. Respond with deep transverse friction to fascial thickenings with the sacroiliac ligaments, exploring the space between the sacral spinous processes and the ilium.
Don't ignore the sacrum!
This a simple but powerful reminder of how even the most sophisticated bodyworks, like Rolfing, are, fundamentally, just good applications of anatomical knowledge.
Honor your origins! Thoracolumbar fascia, we have your back!