How to Choose the Best Massage School for You: The Importance of a Sustainable Class Schedule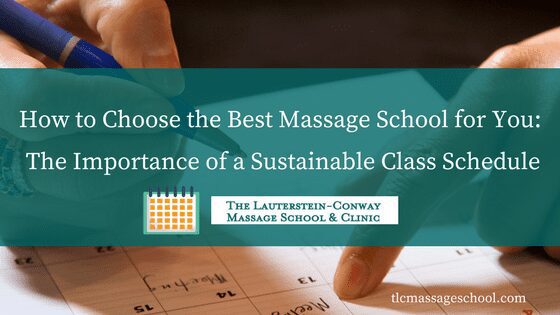 When trying to determine which is the best massage school for you, one of the most important aspects to consider is the massage class schedule or schedules available to you.
Because massage school is not only based on intellectual learning but also practical application, your brainpower is just as important to your success as a massage school student as the physical energy you bring to class with you.
Here are some tips to consider, so you choose the best massage school and class schedule you can sustain through graduation.
School-life Balance and the Schedules that Serve It
It is not uncommon for massage school students to underestimate the importance of balancing daily commitments with their coursework.
The following two factors (and considerations) are the most impactful on our massage school students.
Do You Work?
Because they bring their business experience with them to the massage table, students who have been in the workforce often find certain aspects of being a massage therapist familiar.
But that doesn't mean they are prepared for the process of becoming a massage therapist. Massage school isn't like college, for example. At all.
What to Do: If you have a full or part time job, consider how much space – that is time as well as physical, emotional and mental energy – you have outside of work and class to devote to your education each week.
Be realistic.
Then for look for a schedule that fits into this space without rearranging your life too much – if at all.
A massage class schedule that fits into what is left of your work day or week is sustainable for working students.
Lauterstein-Conway Massage School offers a Saturday-only schedule for students with weekday work commitments. Learn more now.
Do You Have a Family?
Not unlike those with work commitments, having a family is often an asset to students who bring that experience to the table. These students are often committed, caring, approachable and relatable.
But a family's needs can also challenge a long-term massage program.
What to Do: Family life often has a busy season. Choose the busiest month of the year for your family other than December and map out your family commitments on a calendar so you can see them. Then write in the massage class schedule you are anticipating.
Now that you're looking at it on paper, can you make it work? If not, don't panic. Consider whether you will need additional support and who will might be.
A massage class schedule that holds up in your family's busiest season is sustainable for family-focused students.
Lauterstein-Conway Massage School offers a six-month, mornings-only schedule that might work for students with school-aged children. Learn more now.
Special Considerations for Freebirds
Just because you don't work or have pressing family commitments, does not mean you won't face scheduling challenges during your schooling.
Many students find themselves having a change in their living situation or needing a job after all to make it through the program. Life happens.
What to Do: When choosing a massage school schedule, don't forget to plan for the unplanned. Just like the family-focused student needs to consider whether they will need support to sustain their schedule, this student may need to consider what could change during their education.
A massage class schedule that leaves room for life change is sustainable for any type of student.
Lauterstein-Conway Massage School offers an evenings-only class schedule that will leave your days open. Learn more now.
While any good massage school will teach you to work "smarter not harder" in massage school, massage therapy is still both an intellectual and physical activity. Your mind and body need to be ready to learn when you show up for class.
Choosing a massage class schedule that allows you to balance your existing commitments (or upcoming ones) with the time and energy you have available to learn massage will help you make it to graduation day.