Two Reasons to Deepen Your Deep Massage Practice
Why It Is Important to Continue Your Deep Massage Education – and How…
Whether you've taken Deep Massage with us before or are more familiar with other deep modalities like Deep Tissue massage, to go deeper, pun intended, into your Deep Massage practice, we encourage you to revisit the deep modalities to truly embody the work.
Here are two reasons why: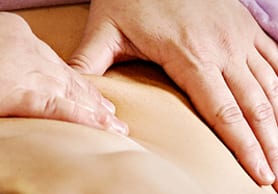 If You're New to Deep Massage (But Not Other Deep Modalities)…
Deep Massage: The Lauterstein Method, one of the modalities uniquely taught at our school, is "a unique soft tissue therapy which works consciously and simultaneously to free human energy, human structure, and support optimum health."
It is distinct from Deep Tissue massage because it allows the client a way to relax and heal from "inside out" instead of using lots of pressure to work from the "outside in."
Studies regarding various psychotherapeutic approaches show the best predictor for positive therapeutic outcomes is not the massage modality used. The best predictor is the quality of the therapeutic relationship.
You can learn more about the differences between the two modalities in our article 7 Reasons: Deep Tissue vs. Deep Massage.
This is what we concentrate on in Deep Massage: The Lauterstein Method – the quality of the therapeutic relationship created primarily through touch.
#1. By continuing to develop your Deep Massage practice, you will learn more about how to engage energy and structure simultaneously. You will appreciate how much easier your work can be. 
If You've Taken Deep Massage Before…
If you have studied at Lauterstein-Conway Massage School before, and especially if you have taken Deep Massage, you may inherently know how important it is to continue study and improve your massage skills. And you may already know that the more you are exposed to a modality, the more it can offer you – and of course, your clients.
Advanced understandings and techniques all have step-by-step learning processes. When we first learn something, we mostly just hear it. But when you revisit the techniques and theory, again and again, you begin to memorize them. Then finally, you begin to embody them.
Learning Deep Massage this way makes the work your own. And we want this for you, your practice and your clients.
#2. By taking it in the workshop format, your Deep Massage practice will become ever more fluent with Deep Massage will multiply the benefits for your clients.
Studies show that the nervous system is the primary thing that changes during a massage. This means the person relaxes their tension in response to the brain signals, and the brain responds to quality of touch. This is the key – muscles don't relax when they are under pressure any more than a person relaxes when they are under pressure.
Muscles relax when the quality of touch is clear and when the therapeutic relationship of the therapist and client is one of deep trust.
We all need to embody a way to work that is specific, yet also kind and deeply effective for both the receivers and the givers. This is the point of Deep Massage, and the reason – wherever you are in your massage practice that you should consider continuing to grow your Deep Massage practice with the next CE workshop.
The July 2018 workshop also begins a celebration of our 30th anniversary – it features a special discount for graduates and, not one but three great instructors teaching – Kevin Graef, Jason Hammond, and Jake Lauterstein!