What gift has a personal Touch this Valentine's Day?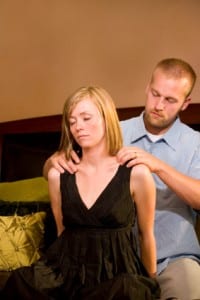 It's that time of year again. The time of flowers, chocolates, and balloons. That's right, Valentine's Day is right around the corner, and couples everywhere are hurrying to find that perfect gift for their loved one.
The problem with these gifts is that they aren't personal. They are mass produced but still meant to communicate that special sense of affection we feel for that special person in our lives. What these gifts are lacking is that personal touch. Touch. What makes a couple closer than touch, especially a healing touch like massage.
While it is true that most people don't know how to properly give a massage, it doesn't mean we can't learn! Learning massage with your significant other not only gives you the skills to give a good massage, but you will get to learn with your partner.
While flowers will wilt and balloons will pop, your time learning Couple's Massage will benefit you and your loved one for years!
---
Want to learn Couples Massage? Come to the Couples Massage class on February 10. Only $70 per couple! Click here for more information.