with Rima Star
Sunday, February 9
9:30am-5:30pm
$175
7 CE's
*Price includes a set of hot stones.
**THIS WORKSHOP IS NOW CLOSED. WALK IN REGISTRATION IS STILL AVAILABLE.**
**10% discount for TLC students/grads**
---
Hot Stone Massage joins the benefits of heat with massage using natural riverbed lava rocks heated in water in the therapy room. Hot stones are a tradition that has been used by Native Americans and other indigenous cultures around the world for centuries. Bringing these natural elements into the massage therapy experience assists in the softening of tissues and fascia, helps your therapeutic techniques to be even more effective, and gives alternative ways to use your hands and body, contributing to balanced body mechanics. Hot Stone Massage is an excellent addition to treatment protocols for relaxation as well as deep tissue massage.
Knowledge and skills to be imparted:
Understanding an overview of Hot Stone Massage

Communicating the purpose and benefits of a Hot Stone Massage to a first time client
Benefits, indications, and contraindications
What type and how many rocks are needed for a full body hot stone session
Know how to set up and maintain proper and safe head during a session and proper sanitation when two sets of stones are set up in the same warmer
Procedures for cleaning stones and resetting for the next session
Stone layout and suggested techniques for prone and supine positions
Types of lubricants and ways to use them
Giving client feedback and assessing possible future use of Hot Stone in their treatment protocol
Developing a plan for continued skill development with Hot Stone Therapy
---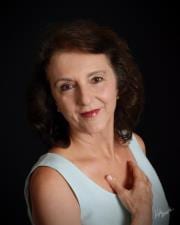 Rima Star, MA, LMT, CE Provider, has been practicing and teaching the art and science of therapeutic massage and holistic health for over 30 years. Integrating aquatic modalities with massage is one of her favorite ways to enhance the client's experience of deep relaxation. Hot Stone Massage provides an excellent way to introduce your clients to new possibilities as well as enhancing your self-care and body mechanics. Ms. Star's other specialties include perinatal and pediatric massage as well as massage doula training. She founded Star Institute, education for birth, health, and creative living, in 2000, served as the Chief Quality Officer Pure Therapy, LLC, from 2006-2010, and is the author of The Healing Power of Birth.